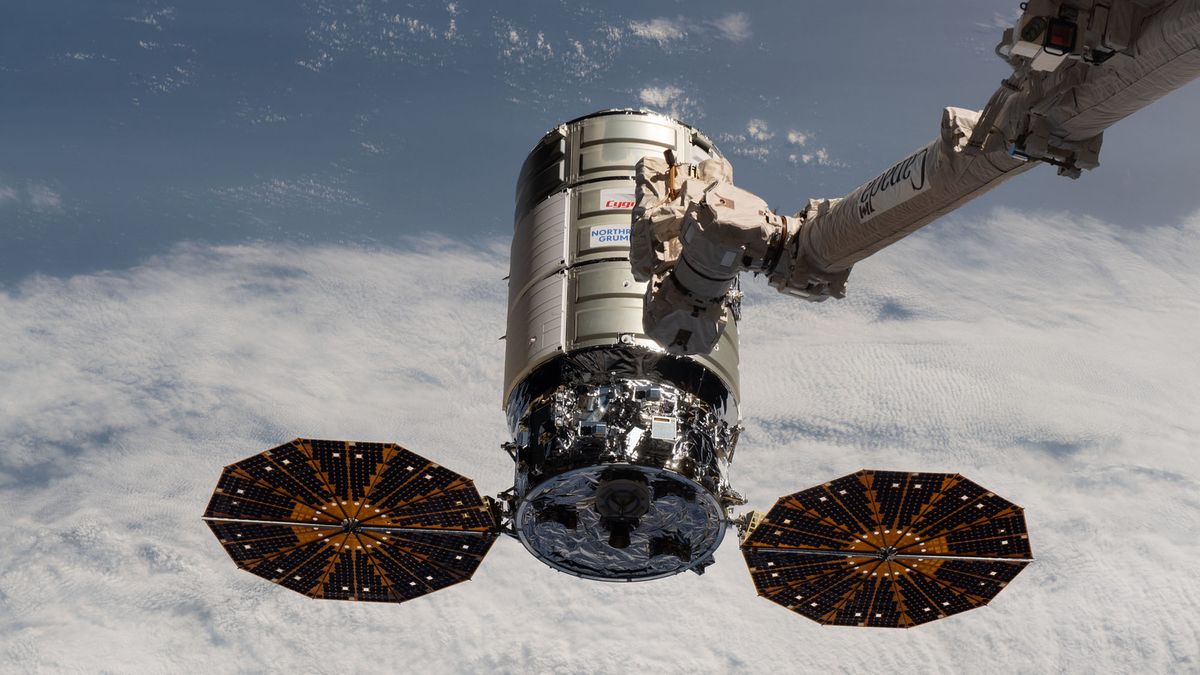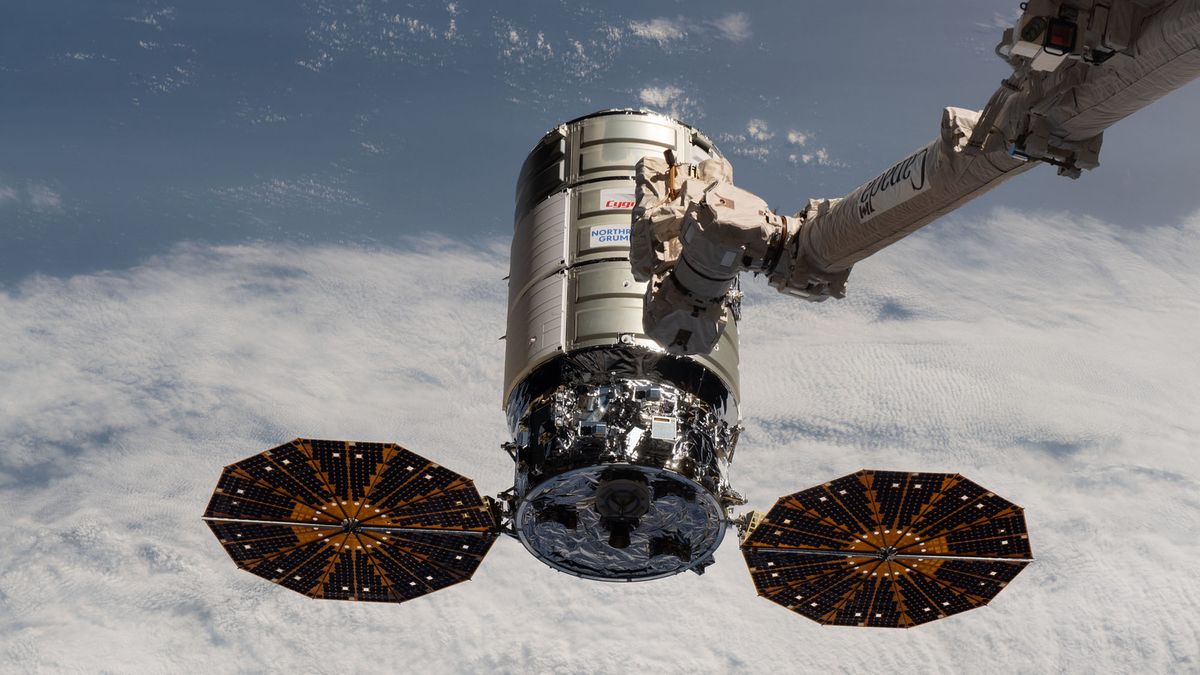 A Northrop Grumman Cygnus cargo ship will cast off from the International Space Station today (June 29) and you can watch it live here, courtesy of NASA TV. NASA's webcast will begin at 12 p.m. EDT (1600 GMT). 
The Cygnus NG-14 S.S. Katherine Johnson cargo ship, which arrived at the space station on Feb. 22, will be released back into space at 12:25 p.m. EDT (1525 GMT) via the station's robotic arm. 
The spacecraft delivered more than 4 tons of supplies, equipment and vital gear for the astronauts on the orbiting lab. After being released, it will deploy five CubeSats and ultimately fire its engines to place it in a controlled reentry so that it burns up in Earth's atmosphere. 
Northrop Grumman's uncrewed Cygnus spacecraft is scheduled to depart the International Space Station Tuesday, June 29, more than four months after delivering nearly 8,000 pounds of supplies, scientific investigations, commercial products, hardware, and other cargo to the orbital laboratory.
Live coverage of the spacecraft's departure will begin at noon EDT on NASA Television, the agency's website, and the NASA app. Northrop Grumman named the spacecraft after NASA mathematician Katherine Johnson, a Black woman broke through barriers of gender and race, calculating orbital mechanics for some of the first U.S. human spaceflights.
Flight controllers on the ground will send commands for the space station's Canadarm2 robotic arm to detach Cygnus from the Unity module's Earth-facing port. The arm will then maneuver the spacecraft into position and release it at 12:25 p.m. NASA astronaut Megan McArthur will monitor Cygnus' systems upon its departure from the space station.
After departure, Cygnus will deploy five CubeSats, includuing the Ionosphere Thermosphere Scanning Photometer for Ion-Neutral Studies (IT-SPINS), which will add to researchers' fundamental understanding of Earth's Ionosphere, and the Khalifa University Students Satellite-2 (MYSat-2), which will train graduate students through the development and evaluation of its software.
Cygnus will then perform a deorbit engine firing to set up a destructive re-entry in which the spacecraft, filled with waste the space station crew packed, will burn up in Earth's atmosphere.
Cygnus arrived at the International Space Station Feb, 22, following a launch two days prior on Northrop Grumman's Antares rocket from NASA's Wallops Flight Facility on Wallops Island, Virginia. It was the company's 15th commercial resupply services mission to the space station for NASA.
Learn more about Cygnus' mission and the International Space Station at:
https://www.nasa.gov/station
SpaceX launching Transporter 2 rideshare mission
Editor's note: Above is archival video from SpaceX's Transporter 1 rideshare launch in January 2021. The live webcast will appear here at launch time.
A used SpaceX Falcon 9 rocket will launch 88 satellites on the Transporter 2 rideshare mission from Cape Canaveral Space Force Station in Florida today (June 29) and you'll be able to watch it live here, courtesy of SpaceX. Liftoff is set for 2:56 p.m. EDT (1856 GMT). 
The Falcon 9 rocket will liftoff from Space Launch Complex 40, with SpaceX's webcast expected to begin about 15 minutes before liftoff. You can also watch directly from SpaceX here. SpaceX will have a one-hour window in which to launch the mission, which will fly on a polar trajectory into orbit. 
Russian Progress 78 cargo ship launch
A Russian Soyuz rocket will launch the uncrewed cargo ship Progress 78 to the International Space Station tonight (June 29) and you'll be able to watch it live online. Liftoff is set for 7:27 p.m. EDT (2327 GMT). 
A Soyuz 2.1a rocket will launch the Progress cargo ship from Baikonur Cosmodrome in Kazakhstan, where the local time will be 4:27 a.m. EDT on Wednesday (June 30). The spacecraft is carrying more than 3,600 lbs. of fuel, food and other supplies for the astronauts living on the space station. 
If all goes well, Progress 78 will launch on a two-day trip to the space station and dock itself automatically at the Russian-built Poisk module on Thursday, July 1. Docking is scheduled for 9:02 p.m. EDT (0102 GMT), with NASA's webcast to begin at 8:15 p.m. EDT (0015 GMT). 
Editor's Note: This advisory was updated June 28, 2021, to provide an updated figure for the amount of cargo being delivered.
Live coverage of Russia's Progress 78 cargo spacecraft's launch and docking to the International Space Station will begin at 7 p.m. EDT Tuesday, June 29, on NASA Television, the agency's website, and the NASA app.
The uncrewed spacecraft is scheduled to launch on a Soyuz 2.1a rocket at 7:27 p.m. (4:27 a.m. Wednesday, June 30, Baikonur time) from the Baikonur Cosmodrome in Kazakhstan.
The Progress spacecraft will go into orbit for a two-day journey before automatically docking to the Poisk module on the space-facing side of the station's Russian segment at 9:02 p.m. Thursday, July 1. Coverage of rendezvous and docking will begin at 8:15 p.m.
Carrying more than 3,600 pounds of food, fuel, and supplies for the Expedition 65 crew, the Progress 78 resupply vehicle will spend almost five months at the station. The cargo craft is scheduled to perform an automated undocking and relocation to the new "Nauka" Multipurpose Laboratory Module in late October. Named for the Russian word for "science," Nauka is planned to launch to the space station in mid-July.
Progress 78 will undock from the orbiting laboratory in November for a re-entry into Earth's atmosphere that results in its safe destruction.
Get breaking news, images and features from the space station on Instagram, Facebook, and Twitter.
'ISS Live!' Tune in to the space station
Find out what the astronauts and cosmonauts aboard the International Space Station are up to by tuning in to the "ISS Live" broadcast. Hear conversations between the crew and mission controllers on Earth and watch them work inside the U.S. segment of the orbiting laboratory. When the crew is off duty, you can enjoy live views of Earth from Space. You can watch and listen in the window below, courtesy of NASA.
"Live video from the International Space Station includes internal views when the crew is on-duty and Earth views at other times. The video is accompanied by audio of conversations between the crew and Mission Control. This video is only available when the space station is in contact with the ground. During 'loss of signal' periods, viewers will see a blue screen.
"Since the station orbits the Earth once every 90 minutes, it experiences a sunrise or a sunset about every 45 minutes. When the station is in darkness, external camera video may appear black, but can sometimes provide spectacular views of lightning or city lights below." 
Follow us on Twitter @Spacedotcom and on Facebook. 
###[ad_2]
Originally Appeared Here